Alzheimer's and Dementia Care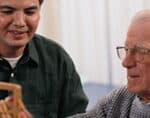 Since 2002, many families have trusted Oxnard Family Circle ADHC to provide individualized Alzheimer's and Dementia care for residents in Ventura County. Our staff of caregivers is equipped with the latest Alzheimer's and dementia care techniques in order to offer your loved one professional assistance.
We have been offering quality healthcare services to the elderly, mentally and physically disabled citizens of all cities in the Ventura County including Ventura, Oxnard, Camarillo, Port Hueneme, Thousand Oaks, Simi Valley, Westlake Village, Santa Paula, and Fillmore. A person with Alzheimer's disease and related dementia's may come to a point where he or she needs more care than what is provided at home. Oxnard Family Circle ADHC is the perfect place to get support services as well as health and social services. We have the resources and trained caregivers to provide specialized care for your loved one. We are sensitive to the special needs of any individual with Alzheimer's disease and we offer a safe and comfortable environment to care for your loved one.
When Should You Seek Alzheimer's Care Facilities?
If the individual with Alzheimer's disease and dementia is unable to stick to a structure of daily activities or is isolated from others for a long period of time, it is a sign that you may need to contact our center. If the affected individual cannot be safely left alone at home or is left unattended for too long, we recommend contacting our facility and inquire about the services we offer for Alzheimer's and Dementia care in Ventura County. Alzheimer's and Dementia Day Care Services Offered
Oxnard Family Circle ADHC provides assistance with establishing routines for daily activities. Our services are proven to improve cognitive abilities and independence. Those with Alzheimer's and Dementia benefit from a routine schedule and living with others who have dementia related problems. Maintaining a familiar environment is key to treating those with Alzheimer's disease.
Our caregivers are trained to provide supervision for daily activities, inspire social interaction, maintain a safe environment, offer nutritious meals and manage behavioral problems of those with Alzheimer's. The activities are fun and engaging and the care center is a safe environment. Our goal is to give your loved one a regular routine and constant care in order to enhance his or her quality of life.
We are also dedicated to helping families cope with the challenges of Alzheimer's and dementia. Some families experience coping difficulties with the demands of care-giving at home and begin to harm their own physical and mental state. We offer relief from care, transportation services, and reassurance for family members.
Alzheimer's Preventive Care and Maintenance
The race for finding the cure for Alzheimer's continues as more individuals are diagnosed with the disease and other dementia related diseases. Although there is no cure for Alzheimer's, studies have shown that it can be prevented or delayed by:
Establishing an exercise routine on a regular basis
Eating a healthy diet
Stimulating the brain through activities
Sleeping regularly
Managing stress
Individuals with high cholesterol levels, heart disease, chronic stress, and diabetes are at risk for Alzheimer's and Dementia. Other risks include obesity, lack of sleep, sedentary lifestyle, smoking, and drug and alcohol use.
Many people begin to notice the signs of Alzheimer's and dementia early on and can practice maintenance to reduce or delay the problem. It is never too late or too early to protect yourself and others from developing Alzheimer's.
As the symptoms of Alzheimer's progress, it is important for you to seek the reliable and trusted services at Oxnard Family Circle ADHC. We understand the difficulty in coping with the changes in behavior and mental capabilities. Our facilities can take care of your loved one by offering a safe and clean environment, an experienced and attentive staff, and a planned schedule of activities.
Why We Are Unique
Our medical day rehabilitation makes it possible to avoid post-hospitalization nursing home stays and reduces the risk of re-hospitalization.
We are a day program, allowing patients to live in the comfort of their own home, while maintaining professional-quality healthcare monitoring and service during weekdays.
Our exciting activities, which are designed to entertain, stimulate, and encourage socialization, are part of the major components of our medical day rehabilitation program.
We provide two dietary meals per day
We provide transportation to and from our Center
We maintain contact with your physicians and notify them immediately of any changes of condition. We are ready to implement his or her orders without delay while at our center and monitor effectivness and side effects.
As part of our Adult Day Care Services, we can offer therapy and monitoring of the following conditions per your doctor's requirements
Physical and Mental disabilities
Speech and Swallowing impairment
Congestive Heart Failure Monitoring
Dementia and Alzheimer's Care
Post Heart Attack and Stroke Care
Diabetic Care
Other Disabilities and Illnesses
 Download Medical Assessment Form
Leave a reply →