Diabetic Care In Ventura County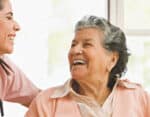 Oxnard Family Circle Adult Day Health Care offers a diabetic care plan for diabetes that is designed to improve the quality of life for those living with diabetes. Our program has been created to meet the individual needs of the elderly, adults with disabilities and retired Veterans living in any city of Ventura County including Ventura, Oxnard, Camarillo, Port Hueneme, Thousand Oaks, Simi Valley, Westlake Village, Santa Paula, and Fillmore. Our goal is to restore and encourage independence for those living with diabetes.
We specialize in a Nutrition service program where we offer consultations with a dietitian, food planning and nutritionally balanced daily meals that fit the unique diets of diabetic individuals as well as highly qualified nursing care and podiatry.
What is Diabetes?
Diabetes is an illness where the body either produces very little amounts of insulin or none at all. Insulin is needed for cells to absorb glucose that is released into the bloodstream. Glucose is a source of energy for the body and is the main sugar found in the blood.
When the body does not produce insulin, the blood glucose levels rise and have harmful effects on various parts of the body including the kidneys, heart, blood vessels and nerves. If untreated, sugars and fats will build-up in the bloodstream which can lead to strokes, heart disease, blindness, kidney failure and amputations. Those affected by diabetes must manage their blood glucose levels through a healthy diet. Diabetes is a major health problem in the entire nation. Nearly three million people in California are living with diabetes and a large number are at high risk for developing the illness. Due to the prevalence of diabetes, Oxnard Family Circle has developed the best Diabetic Care in Ventura County.
Diabetic Care Services Offered
Our home away from home is a place where anyone living with diabetes or other physical, mental or developmental challenges can come to seek assistance and care. We have highly trained nurses who are equipped with the skills needed for caring for diabetics. Not only do we provide nutritional guidance, but we also have an extensive range of nursing care, therapeutic and social services. Our services aim to offer assistance to control the challenges brought upon by the disease. We work with various professionals, the family and the individual affected by diabetes to enhance their quality of life and improve their general well-being. The following are some of the many services we offer in our diabetes care program:
Education on making healthy food choices and adopting better nutrition habits
Physical activity encouragement
Monitoring of blood sugar and medication management
Physical therapy
Daily activities and social activities
Group therapy and emotional support
Counseling and Social services
Podiatry Services
Door to door transportation to and from the program
We understand that families coping with loved ones affected by diabetes require a certain degree of support and relief from care as well. Our multidisciplinary team works together to offer respite care for families and caregivers.
Our services are geared towards the individual based on his or her physical and emotional needs. Our ultimate goal is to work closely with the individual with diabetes, the family, the physician and the community to achieve personal independence. The goal of diabetic care at Oxnard Family Circle ADHC is to educate and help individuals control their diabetes.
Diabetic care at our adult day healthcare is designed for the elderly, Veterans and disabled citizens affected by type 1 or type 2 diabetes. We are dedicated to helping individuals control their diabetes and their health through diet, exercise and medication. While there is no cure for diabetes, it is important for the individual to manage the condition in order to live a healthy and active lifestyle.
Why We Are Unique
Our medical day rehabilitation makes it possible to avoid post-hospitalization nursing home stays and reduces the risk of re-hospitalization.
We are a day program, allowing patients to live in the comfort of their own home, while maintaining professional-quality healthcare monitoring and service during weekdays.
Our exciting activities, which are designed to entertain, stimulate, and encourage socialization, are part of the major components of our medical day rehabilitation program.
We provide two dietary meals per day
We provide transportation to and from our Center
We maintain contact with your physicians and notify them immediately of any changes of condition.  We are ready to implement his or her orders without delay while at our center and monitor effectiveness and side effects.
As part of our Adult Day Care Services, we can offer therapy and monitoring of the following conditions per your doctor's requirements
Physical and Mental disabilities
Speech and Swallowing impairment
Congestive Heart Failure Monitoring
Dementia and Alzheimer's Care
Post Heart Attack and Stroke Care
Diabetic Care
Other Disabilities and Illnesses
Download Physician's Authorization Form
Leave a reply →