Physical & Occupational Therapy In Ventura County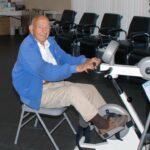 Oxnard Family Circle adult day health care center offers the best physical and occupational therapy in Ventura County. We have qualified and experienced physical therapists who perform various forms of therapy for the frail elderly, individuals with disabilities and Veterans. The treatments are effective and are designed to meet the individual needs of each person to reach their full physical potential again.
What is Physical Therapy?
Physical therapy is a service offered to people with medical problems or other physical and health conditions that interfere with their moving capabilities and ability to function on a daily basis. Injuries, chronic pain, various medical illnesses and surgery may require physical therapy to prevent disability or control it. Physical therapy is an integral part of pain management. Various exercises and manual therapies are performed for improvement. The goal is to treat problems or prevent any from developing.
What is Occupational Therapy?
Occupational therapy is a form of treatment geared towards restoring independence in the lives of people. Individuals with physical, developmental and psychological challenges often require assistance with performing their daily tasks. Occupational therapy trains these individual in order for them to learn essential skills for performing daily tasks. Physical exercises and personal care activities, such as eating and dressing, are important aspects of occupational therapy. This type of therapy targets physical abilities as well as functional. The goal is to allow each individual to become productive and independent through various self-care activities and recreational activities.
Physical and Occupational Therapy Services Offered In Ventura County
Our goal at Oxnard Family Circle is to help improve mobility, relieve pain and to return individuals to their functional physical conditions. Our therapists take the time to examine each person and use the treatment that best fits his or her needs. Our physical therapy programs consist of various forms of treatment including exercise, manual therapy and training. Qualified therapists perform:
Massage therapy
Stretching and strength training
Ambulatory equipment training
Upper body exercise group
Hot and cold packs
Modified Yoga
Paraffin Hand Wax therapy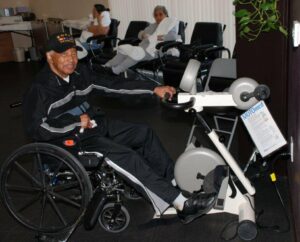 Exercising is an important form of therapy that improves flexibility, strength and mobility. Training for using ambulatory equipment and assisting devices are also essential for the elderly and disabled. Our therapists are also there to provide guidance and education for family members and caregivers on proper therapy exercises.
Physical and occupational therapy can benefit the following conditions:
Recovery after an injury or surgery.
Sudden health conditions including heart attacks, strokes, and brain injury.
Chronic conditions including arthritis.
Developmental disabilities
Alzheimer's disease and other dementia related problems.
Oxnard Family Circle ADHC encourages self-care and independence for those with physical and mental conditions. Anyone with these conditions will benefit from the therapeutic advantages offered. Our physical and occupational therapy services have been successfully used for any citizen living in Ventura County regions including Oxnard, Camarillo, Port Hueneme, Thousand Oaks, Simi Valley, Westlake Village, Santa Paula, Fillmore and Ventura. We train and educate the elderly, adults with disabilities and retired Veterans to live a more satisfied life through physical and occupational therapy.
Why We Are Unique
Our medical day rehabilitation makes it possible to avoid post-hospitalization nursing home stays and reduces the risk of re-hospitalization.
We are a day program, allowing patients to live in the comfort of their own home, while maintaining professional-quality healthcare monitoring and service during weekdays.
Our exciting activities, which are designed to entertain, stimulate, and encourage socialization, are part of the major components of our medical day rehabilitation program.
We provide two dietary meals per day
We provide transportation to and from our Center
We maintain contact with your physicians and notify them immediately of any changes of condition.  We are ready to implement his or her orders without delay while at our center and monitor effectiveness and side effects.
As part of our Adult Day Care Services, we can offer therapy and monitoring of the following conditions per your doctor's requirements
Physical and Mental disabilities
Speech and Swallowing impairment
Congestive Heart Failure Monitoring
Dementia and Alzheimer's Care
Post Heart Attack and Stroke Care
Diabetic Care
Other Disabilities and Illnesses
Leave a reply →