PTSD & Mental Health Services In Ventura County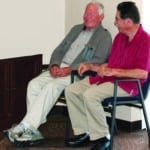 Post-traumatic stress disorder symptoms usually start within three months of a traumatic event, and may linger for months or even years at a time. In a small number of cases, PTSD symptoms may not appear until years after the event.
Post-traumatic stress disorder symptoms are generally grouped into three types: intrusive memories, avoidance and numbing, and increased anxiety or emotional arousal (hyper-arousal).
Symptoms of intrusive memories may include:
– Flashbacks (or reliving the traumatic event anywhere from minutes to days at a time)
– Nightmares about the traumatic event
Symptoms of avoidance and emotional numbing may include:
– Trying to avoid thinking or talking about the traumatic event
– Feeling emotionally numb
– Avoiding activities your loved one once enjoyed
– A feeling of hopelessness about the present or future
– Memory problems
– Difficulty concentrating
– Difficulty maintaining close relationships
Symptoms of anxiety and increased emotional arousal include:
– Irritability or anger
– Overwhelming guilt or shame
– Self-destructive behavior, such as addiction problems
– Trouble sleeping
– Being easily startled or frightened
– Hearing and seeing things that aren't there.
Post traumatic stress can come and go; your loved one may have more PTSD symptoms when their life is stressful in general, or when they experience a reminder of what they went through. At Oxnard Family Circle we are dedicated to help all victims of post-traumatic stress disorder heal from their experiences and live a happy and peaceful life.
Why We Are Unique
Our medical day rehabilitation makes it possible to avoid post-hospitalization nursing home stays and reduces the risk of re-hospitalization.
We are a day program, allowing patients to live in the comfort of their own home, while maintaining professional-quality healthcare monitoring and service during weekdays.
Our exciting activities, which are designed to entertain, stimulate, and encourage socialization, are part of the major components of our medical day rehabilitation program.
We provide two dietary meals per day
We provide transportation to and from our Center
We maintain contact with your physicians and notify them immediately of any changes of condition.  We are ready to implement his or her orders without delay while at our center and monitor effectiveness and side effects.
As part of our Adult Day Care Services, we can offer therapy and monitoring of the following conditions per your doctor's requirements
Physical and Mental disabilities
Speech and Swallowing impairment
Congestive Heart Failure Monitoring
Post Heart Attack and Stroke Care
Diabetic Care
Other Disabilities and Illnesses
Leave a reply →