Speech Therapy Serving The Elderly, Disabled People, and Veterans in Ventura County.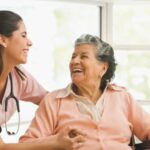 Oxnard Family Circle ADHC is a community-based adult day care facility that specializes in Speech Therapy for the elderly, disabled, and disabled Veterans of Ventura County. Speech therapy is one of the many services offered for the elderly and disabled citizens of Ventura County. Oxnard Family Circle has been a second home to many individual with physical, psychological and developmental challenges for several years.
Our mission is to provide the best programs that fit the unique needs of each individual in order to improve their quality of life and encourage independence. With individualized services such as full speech therapy sessions, we are able to successfully enrich the lives of the elderly and disabled citizens of Ventura County.
What is Speech Therapy?
Adult speech therapy is one of the essential forms of therapy for those with physical and developmental conditions that relate to speaking and swallowing. A variety of medical conditions may require speech therapy sessions. These include strokes, Parkinson 's disease, and multiple sclerosis. Brain injuries and facial injuries caused by accidents may also require speech therapy. Finally, mental challenges that impair speaking abilities are qualified for speech therapy.
Speech therapy is often used for treating speech impairments for children, but many aging adults with developmental problems benefit from the therapy.  In time, patients will see a significant increase in quality of life as their ability to communicate with friends and family increases.  Speech therapy is critical for maintaining positive social connections and psychological health in elderly patients with speech disabilities.
How do Speech Therapy Sessions Work?
Oxnard Family Circle has a qualified and trained staff of speech therapists who are equipped with the latest techniques, knowledge and resources to perform speech therapy in Ventura County. Our therapists are friendly and dedicated to offering effective speech therapy sessions to help Ventura County citizens improve their speaking and swallowing abilities.
Once a therapist examines the condition of the individual through various tests, he or she will perform a specific type of speech therapy tailored to the individual's needs and abilities. Some sessions involve group therapy while others are personal. Therapists will direct exercises to improve muscular structure related to speaking. Certain assignments focused on comprehension and pronunciation will also be given.
Having the ability to communicate effectively is a struggle for many people with disabilities. Speech Therapy sessions at Oxnard Family Circle adult day healthcare are designed to improve communication and to help build confidence through training. The primary goal of Oxnard Family Circle is to enhance the lives of the elderly, people with disabilities and Veterans. Speech therapy is one of the more specialized and effective services we offer to achieve our goals.
Why We Are Unique
Our medical day rehabilitation makes it possible to avoid post-hospitalization nursing home stays and reduces the risk of re-hospitalization.
We are a day program, allowing patients to live in the comfort of their own home, while maintaining professional-quality healthcare monitoring and service during weekdays.
Our exciting activities, which are designed to entertain, stimulate, and encourage socialization, are part of the major components of our medical day rehabilitation program.
We provide two dietary meals per day
We provide transportation to and from our Center
We maintain contact with your physicians and notify them immediately of any changes of condition.  We are ready to implement his or her orders without delay while at our center and monitor effectiveness and side effects.
As part of our Adult Day Care Services, we can offer therapy and monitoring of the following conditions per your doctor's requirements
Physical and Mental disabilities
Speech and Swallowing impairment
Congestive Heart Failure Monitoring
Dementia and Alzheimer's Care
Diabetic Care
Other Disabilities and Illnesses
Leave a reply →