Senior Care In Ventura County
What does Senior Care In Ventura County mean at Oxnard Family Circle ADHC?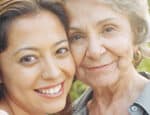 Our definition of senior care in Ventura County is making your loved one feel safe and cared about on a daily basis while providing mental and social stimulation, healthy meals and medication (if necessary), personal care, entertainment and exercise, therapy for both the mind and body, and caregiver respite and support.
Mental and Social Stimulation For Seniors
Too often, seniors who live at home cannot visit friends frequently as it may be difficult to make plans or get from place to place.  Oxnard Family Circle is a program that is designed specifically to enhance your loved one's social life by creating a group setting where individuals are encouraged to socialize and befriend one another. Having the ability to see friends on a daily basis can vastly improve quality of life and mental health. We also encourage participants to participate in group-style games and mentally stimulating activities to help keep cognitive functioning sharp.
Medication For Seniors
We keep in touch with your physician and only distribute medication as directed by that physician. Oxnard Family Circle will follow up on the progress of the participant and implement your doctor's orders.
Diet and Nutrition For Seniors
Our senior day care program in Ventura County cooks and serves two fresh meals per day that include healthy choices like fruits, vegetables, chicken and fish that are low-fat and low-sodium. We implement a variety of spices to help enhance flavors and keep our meals healthy. We also offer special blended diets for those who may have difficulty swallowing or chewing food. Our dietician is available to design personalized diets if necessary and provide dietary counseling.
Entertainment For Seniors
Our senior day care program in Ventura County provides entertainment and fun activities on a daily basis. We have group games every day that are mentally and socially stimulating, as well as guest speakers and performers. Twice a week participants have Zumba dancing which incorporates fun and exercise.
Exercise For Seniors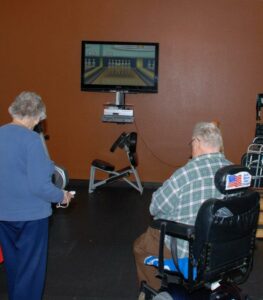 Our senior day care program in Ventura County has a designated exercise area that includes various machines for workout and a Nintendo Wii that can be used to play fitness games. Our physical and occupational therapists can help create structured workout routines that can be tailored specifically to individual participants. We also have a massage therapist to help ease aching muscles and joints.
Two participants enjoying a game of bowling using the Nintendo Wii.
Participant Counseling
Our senior day care program in Ventura County offers psychological counseling as well as a safe environment for your loved one to discuss anything that is on their mind. Your loved one can participate in group or individual counseling depending on what feels most comfortable for him or her.
Personal Care
If your loved one needs personal assistance, we have program aids to help your loved one with feeding, bathing, toileting, and personal grooming.
Caregiver Respite and Support
Caregivers can receive respite during the day while knowing their loved one is safe at our center. We also have support groups twice a month which provides caregivers with an outlet to discuss their experiences in care-giving, ask questions, and support each other.
Why We Are Unique
Our medical day rehabilitation makes it possible to avoid post-hospitalization nursing home stays and reduces the risk of re-hospitalization.
We are a day program, allowing patients to live in the comfort of their own home, while maintaining professional-quality healthcare monitoring and service during weekdays.
Our exciting activities, which are designed to entertain, stimulate, and encourage socialization, are part of the major components of our medical day rehabilitation program.
We provide two dietary meals per day
We provide transportation to and from our Center
We maintain contact with your physicians and notify them immediately of any changes of condition.  We are ready to implement his or her orders without delay while at our center and monitor effectiveness and side effects.
As part of our Adult Day Care Services, we can offer therapy and monitoring of the following conditions per your doctor's requirements
Physical and Mental disabilities
Speech and Swallowing impairment
Congestive Heart Failure Monitoring
Dementia and Alzheimer's Care
Diabetic Care
Other Disabilities and Illnesses
Contact A Social Worker For More Information About Our Senior Care Programs In Ventura County. Click Here
Leave a reply →